a.k.a Dolemite 2
a.k.a Human Tornado
Release Date:  (1976)
Genre:  Action/Comedy
Rating:  R
Director: Cliff Roquemore
Studio(s): Comedian International, Xenon Entertainment Group, Dimension Pictures, Vinegar Syndrome.
Running Time: 98 mins.
Cast:  Rudy Ray Moore (Dolemite), Lady Reed (Queen Bee), Jimmy Lynch (Mr. Motion), Gloria Delaney (Hurricane Annie), J.B. Baron (Sheriff Beatty), Jerry Jones (Detective 'Pistol Pete' Blakeley), Herb Graham (Cavaletti), Ernie Hudson (Bo).
Story:  Dolemite (Rudy Ray Moore) is back and badder than ever in THE HUMAN TORNADO! After being run out of town by a racist sheriff, Dolemite returns to LA only to discover that Queen Bee's (Lady Reed) club has been taken over by the mafia. On top of that they have also kidnapped two of Queen Bee's top girls! With the law hot on his tail, Dolemite rounds up the toughest Kung-Fu fighting badasses in Southern California to take on the mob, culminating in one of the craziest surprise endings in blaxploitation film history!  Source:  Daarac.org.
Full Synopsis:  In Citronell, Alabama, Dolemite performs his comedy routine to a rapt audience while a scantily-clad woman performs a provocative dance.  Later, Dolemite drives to his hilltop mansion, where a party is in progress.
He leads Mrs. Bently into the bedroom and tells her that he will be with her later. In the living room, a man delivers the bad news that plans to build a home for boys have been abandoned. Dolemite offers his own home to the cause and receives an enthusiastic round of applause. Dolemite returns to the bedroom and tells Mrs. Bently that he needs to "get this shit over with." She replies, "Dolemite, you're worth every damn cent I pay you."
Sheriff Bently and his deputies raid the party.  Party guests Bo, Jimmy and Dough see the police car from the patio and run inside to tell the others, but none are able to escape, and Bently holds the group at gunpoint. When Bently and Deputy Charlie attack a young woman, she falls into the doorway of the bedroom, where Dolemite is with Mrs. Bently.  On the sheriff's order, Charlie kills Mrs. Bently, but Dolemite shoots Charlie, escapes through a back door, and tumbles down the hill to the road, where Bo, Jimmy and Dough are waiting in a car. Bently and Deputy Jethro give chase. After killing Jethro and destroying Bo's car in a fiery wreck, Dolemite and his comrades travel on foot.
Jimmy flags down an openly gay white man, and when Dolemite, shotgun in hand, demands a ride to California, the driver cheerfully obliges.
Along the way, Dolemite phones Queen Bee, who runs a successful nightclub in Los Angeles. She entices Dolemite with the news that dancer Hurricane Annie is pining for him. Meanwhile Mafioso and rival club owner Joe Cavaletti plans to eliminate Queen Bee, and sends three armed henchmen to her club.  Master of ceremonies, Mr. Motion, and star attraction, Java, try to fend them off. The men beat Queen Bee and kidnap Java and a waitress named T.C. Cavaletti forces Queen Bee and her girls to work at his nightclub, the Twenty Grand while Java and T.C. are taken to Cavaletti's torture house, where an insane old woman torments them with a live snake.
Dolemite and his comrades discover that Queen Bee's home and nightclub are both empty. After searching several nightspots, the group locates Hurricane Annie, who suspects that Queen Bee and her girls are Cavaletti's prisoners.
They find Queen Bee waiting tables at the Twenty Grand, but she can divulge very little as she is being watched. Dolemite goes home with Hurricane Annie, who teases him about his recent weight gain. They remove their clothes and do exercises on the bed, which leads to sex. The next day, Sheriff Bently appears at the office of Police Captain Ryan, demanding the arrest of Dolemite for the murder of Mrs. Bently. Ryan assigns his Detective Pete Blakeley to the case.
Later, Dolemite learns that Mrs. Cavaletti is a nymphomaniac, and poses as a dealer of erotic paintings as a means to seduce her. After their lovemaking causes the bedroom to collapse around them, Mrs. Cavaletti divulges the location of the torture house.
Queen Bee and her girls are staffing Cavaletti birthday party that night and they, along with Mr. Motion, Dolemite's friends, and karate champion Howard Jackson, plan an attack.  Meanwhile, Dolemite fights his way into the torture house. In the basement, a sadistic henchman puts a live grenade between T.C.'s legs, while a rack of spikes is about to fall on Java.  Dolemite appears, breaks the henchman's neck, and frees them.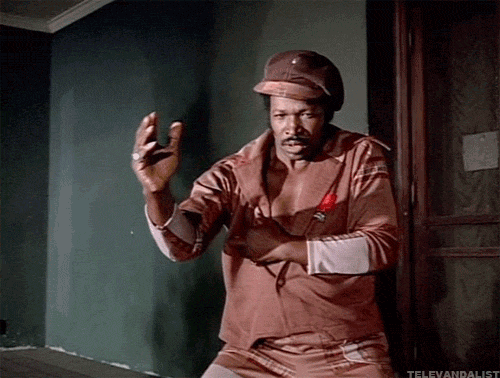 At the party, Mr. Motion and Bo pose as caterers and sneak their comrades into the house. The forces of Dolemite and Queen Bee soon triumph over those of Cavaletti.  Blakeley, Ryan and Bently arrive and find Cavaletti being eaten alive by rats, while Dolemite drives away.  Bently gives chase, shoots Dolemite in the back and says, "Your career is over, stud," before leaving.  Dolemite sits up, opens his jacket, and reveals a bulletproof vest.  Source:  American Film Institute.  Photo Source(s)/Gifs:  Daarac.org, IMDB.
Trailer: