Tagline: Infiltrate Hate
Release Date:  8/10/18
Genre:  Drama/Biography
Rating:  R
Director:   Spike Lee
Studio(s):   Blumhouse Productions, Monkeypaw Productions, Perfect World Pictures,
QC Entertainment, Focus Features
Running time:  135 mins.
Cast:  John David Washington, Adam Driver, Topher Grace, Laura Harrier, Ryan Eggold, Paul Walter Hauser, Corey Hawkins, Harry Belafonte, Robert John Burke.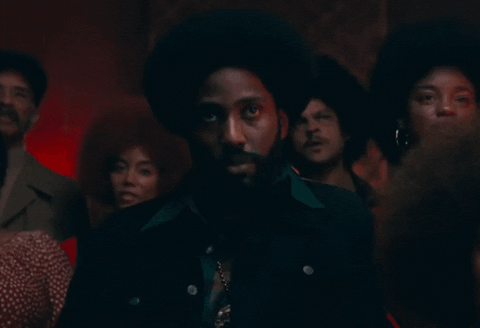 Story:  The film is based on the 2014 memoir Black Klansman by Ron Stallworth.  Set in the late-1970s in Colorado Springs, the plot follows the first African-American detective in the city's police department as he sets out to infiltrate and expose the local chapter of the Ku Klux Klan.
In the late 1970s, Ron Stallworth is hired as the first black officer in the Colorado Springs Police Department. Assigned to work in the records room, he faces racial discrimination from his coworkers. After he requests a transfer to undercover work, he is assigned to infiltrate a local rally where national civil rights leader Kwame Ture (a.k.a. Stokely Carmichael) gives a speech. At the rally, Stallworth meets Patrice Dumas, president of the "Black Student Union" at Colorado College. While she takes Ture to his hotel, Patrice is stopped by a racist patrolman, who threatens Ture and gropes Patrice.
Later, Stallworth is reassigned to the intelligence division.  After reading about a local division of the Ku Klux Klan in the newspaper, he calls the organization, pretending to be white, and speaks with the president. Stallworth recruits his Jewish coworker, Flip Zimmerman, to pose as Stallworth in order to meet the Klan members. Zimmerman meets the president, Walter Breachway, Felix Kendrickson, and Ivanhoe, who cryptically refers to an upcoming attack.
Calling Klan headquarters in Louisiana to expedite his membership, Stallworth begins regular phone conversations with Grand Wizard David Duke. Kendrickson suspects Zimmerman of being Jewish and tries to make him take a polygraph test at gunpoint, but Stallworth breaks the Kendricksons' kitchen window as a distraction. Stallworth begins dating Patrice, but does not tell her that he is a police officer.
Duke visits Colorado Springs for Stallworth's induction into the Klan. Over the real Stallworth's protests, he is assigned to a protection detail for Duke. Once Zimmerman is initiated, masquerading as Stallworth, Felix's wife Connie leaves the ceremony to place a bomb at a civil rights rally. Stallworth realizes her intentions and alerts local police officers. When Connie notices a heavy police presence at the rally, she puts Felix's backup plan into action and plants the bomb under Patrice's car. Stallworth tackles her as she tries to flee, but uniformed officers detain and beat him despite his protests that he is working undercover.
The bomb maker, recognizes Zimmerman from a prior arrest. He, Felix and Ivanhoe arrive and trigger the bomb while Ron is being detained. Not realizing where Connie hid it, they detonate it while standing next to Patrice's car and are killed in the explosion. Zimmerman arrives and frees Stallworth, and Connie is arrested.
Police Chief Bridges congratulates the team for their success, but orders them to end their investigation and destroy the records. Stallworth receives a call from Duke, and he reveals that he is black before hanging up. While Patrice and Stallworth discuss their future, they are interrupted by a knock on the door. Through the window in the hallway, they see a flaming cross on a hillside surrounded by Klan members.  Source:  Wikipedia; IMDB; Giphy.com.
Trailer: