On January 28th, award-winning film, television and stage actress Cicely Tyson passed away at the age of 96. In a career spanning more than seventy years, Ms. Tyson became known for her portrayal of strong African-American women and built a successful career by carefully choosing roles that exemplified quality, intelligence and grace. She won accolades, critical acclaim and awards for her performances on TV, stage and in film and was the recipient of three Primetime Emmy awards, four Black Reel Awards, one Screen Actors Guild Award, one Tony Award, an honorary Academy Award and a Peabody Award, among others. She was inducted into the Black Filmmakers Hall of Fame in 1977; in 1997, she received a star on the Hollywood Walk of Fame; in 2010, the NAACP presented her with its 95th Spingarn Medal — an award given to African Americans who have reached outstanding levels of achievement. She was named a Kennedy Center honoree in 2015 and in 2016 was awarded the Presidential Medal of Freedom by Barack Obama. In 2020 she was inducted into the Television Hall of Fame.
Ms. Tyson was born in East Harlem to Fredericka Theodosia Tyson (commonly known as Theodosia, but listed as Fredericka on most U.S. Census documents) and William Augustine Tyson, immigrants from the West Indian island of Nevis. For most of her career, Ms. Tyson said she was born December 19, 1933, but public records indicate her birth date was December 18, 1924. One of three children, her father worked as a house painter and carpenter while her mother was a domestic servant. Her parents divorced when she was a child. Theodosia kept Cicely, her sister Emily and brother Melrose on a tight rein. Until she was in her late teens, Cicely was not allowed to go to plays or to the movies. Theodosia's household was a religious one. When Cicely was not in school, she was in church. She once said,
"From Sunday morning till Saturday night. I recited. I played the piano. I sang in the choir. I taught Sunday school…. We went to prayer meeting Monday nights, children's meeting, grown-ups' meeting Wednesday, old folks' meeting Thursday, and Saturday we cleaned the church."
Cicely loved to perform, but her sternly religious mother was opposed to her becoming an actress. Theodosia threw her daughter out of her home for getting into the "sinful" entertainment business and for two years, they didn't speak to or see one another. It wasn't until she saw her daughter on stage that Theodosia acknowledged that Cicely, who by then was well-known for the elegant quality of her acting, had chosen wisely.
After graduating high school, she worked as a secretary for the American Red Cross before being discovered by a fashion editor at Ebony magazine in the 1950s. She became a successful fashion model and at the top of her game appeared in Vogue and Harper's Bazaar. While waiting to meet with the fashion editor of Ebony magazine, she chatted with an actress who told her about open parts in a film called The Spectrum, a story about conflicts between Blacks with light and dark skin. The movie was never made, but Cicely became infatuated with acting and studied at the Actors Studio.
Her first acting role was on the NBC television series Frontiers of Faith in 1951 and her first film role was in 1956 when she played Dottie in Carib Gold which also starred Ethel Waters, Diana Sands and Geoffrey Holder. Her first stage appearance was as Barbara Allen in the 1959 Off-Broadway revival of the musical "The Dark of the Moon."  She appeared in a production of "Jolly's Progress" in which she was also Eartha Kitt's understudy. Also, in 1959 she had small, uncredited roles in the Harry Belafonte film Odds Against Tomorrow as well as the film The Last Angry Man in which Billy Dee Williams also appeared. In 1961, Ms. Tyson's stage career ignited when she appeared in the original cast of French playwright Jean Genet's "The Blacks". Other notable cast members included Maya Angelou, James Earl Jones, Godfrey Cambridge, Louis Gossett, Jr. and Charles Gordone. The show was the longest running off-Broadway non-musical of the decade, running for 1,408 performances. She had substantial theater parts throughout the 1960s and in 1969 was one of the founding members of the Dance Theater of Harlem.
In between stage gigs, Ms. Tyson appeared in a number of television series throughout the 1960s. Impressed by her work in "The Blacks," actor George C. Scott and producer David Susskind signed her up for a role in the 1963 CBS TV drama series East Side/West Side.
She played Jane Foster, secretary to a social worker played by George C. Scott. At the time she was the only African American regular member of a TV cast. The show was noted for its treatment of social issues and while critically acclaimed it only lasted for one season. Scott wrote in 1988, that even before it aired, some 60 CBS affiliates chose not to run it because of Tyson's race. Even so, the part increased her visibility, and she appeared on several other TV shows including Naked City, The Nurses, I Spy, The Guiding Light, Slattery's People, and The Bill Cosby Show.
It wasn't until 1972 that she got her big breakout motion picture role when she starred as Rebecca Morgan in the movie Sounder. In the Depression-era film, she portrayed the matriarch of a poor family of sharecroppers who holds things together while her husband does time in a Louisiana prison camp. Ms. Tyson was nominated for both the Academy Award and Golden Globe Award for Best Actress for her work in the film.
Despite her achievements onstage and in films, much of the actress's best work was done for television. In 1974, she starred in The Autobiography of Miss Jane Pittman, a television movie based on a novel by Ernest Gaines in which she portrayed a 110-year-old woman who recalls her life from slavery through the civil rights struggles of the 1960s. With this role she cemented her reputation as one of America's preeminent Black actresses. She won two Emmys for her performance — best actress in a drama and actress of the year. In addition to Miss Jane Pittman, she did outstanding work as Kunta Kinte's mother in Roots (1977), as gold-medalist sprinter, Wilma Rudolph in Wilma (1977), as Coretta Scott King in King (1978), as Harriett Tubman in A Woman Called Moses (1978), as dedicated school teacher, Marva Collins in The Marva Collins Story (1981), as Mrs. Browne, in Oprah Winfrey's ensemble drama, The Women of Brewster Place (1989), and nabbed her third Emmy for her supporting role as housemaid Castalia in The Oldest Living Confederate Widow Tells All (1994).
With acting roles in at least 90 movies and TV series dating back to the 1950s, demand for Ms. Tyson's skill and grace did not diminish as she got older. In her 80s, she worked more in film than at any other time in her career in part due to her appearance in several Tyler Perry movies, Diary of a Mad Black Woman (2005), Madea's Family Reunion (2006), Why Did I Get Married Too? (2010), Alex Cross (2012), and A Fall From Grace (2020). In 2011, Ms. Tyson appeared as maid Constantine Bates in the critically acclaimed period drama The Help. She also had roles in TV series such as House of Cards and Ava DuVernay's Cherish The Day. And after a 30-year absence from Broadway, the actress returned with a role in Horton Foote's "The Trip to Bountiful." She traveled to Texas in an effort to better understand her part in the production — dedication that paid off when she won the 2013 Tony Award for best performance by an actress in a leading role in a play. The 88-year-old actress became the oldest recipient of the Best Actress Tony Award. Her last acting role was as a guest star on the legal thriller TV series, How to Get Away with Murder. Beginning in 2015 she played Ophelia Harkness, mother of main character Annalise Keating (Viola Davis). For this performance, she was nominated for a Primetime Emmy Award for Outstanding Guest Actress in a Drama Series in 2015, 2017, 2018, 2019, and 2020.
Ms. Tyson's career trajectory wasn't easy and at times she had trouble finding work. She would not take parts solely for the paycheck. She steadfastly refused to sing or dance although perfectly capable of both, because she felt that Blacks were never expected to do anything else and wanted to break away from that stereotype. She declined to participate in the blaxploitation movies that became popular in the late '60s through the 70s. She would not play drug addicts or prostitutes and until her role in The Help, she would not play a maid. She felt these roles were demeaning to women. Ms. Tyson was selective about the roles she chose but great roles were scarce. She once said in an interview,
"I'm a woman and I'm Black. I wait for roles—first, to be written for a woman and then, to be written for a Black woman. And then I have the audacity to be selective about the kind of roles I play. … Aren't you amazed I'm still here?"
Though her resume was extensive and her preparation for roles exhaustive, Ms. Tyson was concerned about the example she set for Black women. The day before her appearance as an African woman in a 1959 drama on CBS' Camera Three, she had her straightened hair cut off and cropped as close as possible. With that deceptively simple choice, Ms. Tyson became, by many accounts, the first Black woman to appear on TV with natural hair. A few years later, she sported an Afro, and then corn rows on the short-lived 1963 television series East Side/West Side.
Over the years, little had been known about Cicely Tyson's personal life until her memoir, Just As I Am was published on January 26, 2021, just two days before her death. The memoir reveals that at the age of seventeen, she had a daughter, Joan Tyson. According to USA Today, Just As I Am is dedicated to Joan and explores details about her birth and childhood.
At age 18, Ms. Tyson married Kenneth Franklin on December 27, 1942. According to the divorce decree, Franklin abandoned her after less than eighteen months of marriage. The marriage was formally dissolved in 1956.
For over 20 years, she had an on and off relationship with jazz legend Miles Davis. In her memoir, Ms. Tyson relates how she first met Davis when he was still married to his first wife, dancer Frances Taylor. She was visiting her friend, actress Diahann Carroll, when the musician — who was Ms. Carroll's neighbor — came to Carroll's door to ask for some sugar. Ms. Tyson said she wasn't too comfortable with the idea of getting together with the musician, but things changed. "…once I glimpsed his innards, and once it became clear that he and Frances had truly moved on … my misgivings were swallowed whole by the warmth between us."
They began dating in 1966 and In 1967 Davis told the press that he intended to marry Tyson after his divorce was finalized, but instead he married 23-year-old singer Betty Mabry. There was a big age difference between them and they divorced quickly. Tyson and Davis rekindled their relationship in 1978 and were married on November 26, 1981 in a ceremony conducted by the mayor of Atlanta at the home of actor Bill Cosby. Their marriage was turbulent allegedly due to Davis' volatile temper, addiction issues and infidelity. There were also rumors that Davis abused her. In her book, she recalls the moment she decided it was finally over between them. She states that in 1987 she found a note from another woman, which had details of where she was supposed to meet Davis. When he tried to leave, Ms. Tyson says she grabbed him by the hair and held on tightly. She wrote,
"By the time he struggled free, I was holding a whole bushel of his weave in my right hand. I hurled it onto the ground, marched out the door, and slammed it shut."
She filed for divorce in 1988 and it was finalized in 1989. Just days before her death, Ms. Tyson reflected on her marriage in an interview with Gayle King, in which she expressed that until Davis' death in 1991, "I loved him and he loved me… Of that fact, I am certain."
Cicely Tyson was godmother to singer Lenny Kravitz, having been friends with his mother, Roxie Roker, as well as to Denzel Washington's daughter Katia and Tyler Perry's son Aman. She was committed to community involvement and was active in charity and arts organizations including Urban Gateways, the Human Family Institute and the American Film Institute.
The legendary actress once recounted being asked, "Now that you have made it, what else are you going to do?" to which she responded, "My dear, the day I feel that I have made it, I am finished."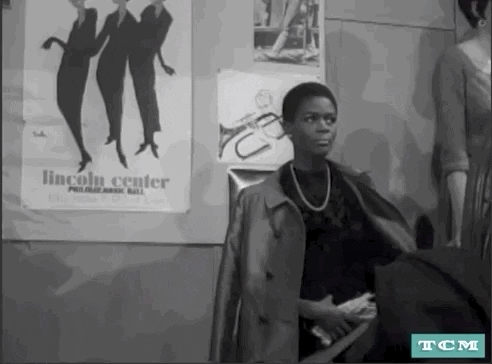 List of Films, TV Movies and Miniseries
Carib Gold (1957)
Odds Against Tomorrow (1959)
The Last Angry Man (1959)
A Man Called Adam (1966)
The Comedians (1967)
The Heart Is a Lonely Hunter (1968)
Marriage: Year One (1971) (TV Movie)
Neighbors (1971) (TV Movie)
Sounder (1972)
The Autobiography of Miss Jane Pittman (1974) (TV Movie)
Just an Old Sweet Song (1976) (TV Movie)
The Blue Bird (1976)
The River Niger (1976)
Everybody Rides the Carousel (1976)
Roots (1977) (TV Miniseries)
Wilma (1977 (TV Movie)
A Hero Ain't Nothin' But a Sandwich (1978)
King (1978) (TV Miniseries)
The Concorde… Airport '79 (1979)
Bustin' Loose (1981)
The Marva Collins Story (1981) (TV Movie)
Benny's Place (1982) (TV Movie)
Playing with Fire (1985) (TV Movie)
Acceptable Risks (1986) (TV Movie)
Samaritan: The Mitch Snyder Story (1986) (TV Movie)
Intimate Encounters (1986) (TV Movie)
The Women of Brewster Place (1989) (TV Miniseries)
Without Borders (1989) (TV Movie)
Heat Wave (1990) (TV Movie)
The Kid Who Loved Christmas (1990) (TV Movie)
Clippers (1991) (TV Movie)
Fried Green Tomatoes (1991)
Duplicates (1992) (TV Movie)
When No One Would Listen (1992) (TV Movie)
House of Secrets (1993) (TV Movie)
Oldest Living Confederate Widow Tells All (1994) (TV Miniseries)
Flight to Freedom (1995)
The Road to Galveston (1996 TV Movie)
Bridge of Time (1997) (TV Movie)
Riot (1997) (TV Movie)
The Price of Heaven (1997) (TV Movie)
Hoodlum (1997)
Ms. Scrooge (1997) (TV Movie)
Always Outnumbered (1998) (TV Movie)
Mama Flora's Family (1998) (TV Miniseries)
A Lesson Before Dying (1999) (TV Movie)
Aftershock: Earthquake in New York (1999) (TV Miniseries)
Jewel (2001) (TV Movie)
The Rosa Parks Story (2002) (TV Movie)
Because of Winn-Dixie (2005)
Diary of a Mad Black Woman (2005)
Madea's Family Reunion (2006)
Fat Rose and Squeaky (2006)
Idlewild (2006)
Rwanda Rising (2007)
Relative Stranger (2009) (TV Movie)
Why Did I Get Married Too? (2010)
The Help (2011)
Alex Cross (2012)
The Haunting in Connecticut 2: Ghosts of Georgia (2013)
The Trip to Bountiful (2014) (TV Movie)
Showing Roots (2016)
Last Flag Flying (2017)
A Fall from Grace (2020)
Sources: Biography.com, CNN.com, Variety, HITC.com., Latimes.com, thelist.com, msn.com, Wikipedia; IMDB. Photo Sources: klkntv.com, Instyle.com, pressreality.com, defendernetwork.com, Zimbio.com, Edison.cnn.com. footwearnews.com; broadwaybox.com; giphy.com.